Sale!
Racing wheelchair
1091,00 €
Entry-level racing wheelchair, perfect for track, road and marathon racing.
• 700C racing wheels.
• Color-coded by size.
• Removable footplate.
• Adjustable footrest and seating.
• Alu frame for 100kg weight capacity.
• Suit both seated and kneeling athletes.
Description
Robust and sustainable, this racing wheelchair has been designed in partnership with the International Paralympic Committee to meet the criteria for racing. The adjustment of the seat and footrest allows to choose between a sitting position and a tibial position.

Suitable for adults and children, it is available in four seat widths and can be easily adjusted to suit both seated and kneeling athletes.
Among its many qualities, our racing wheelchair is a versatile tool among the most economical on the market, so feel free to contact us for additional information or for a personalized quote.
Technical info
Seat widths to order
Small : 25 - 29 cm (10'')
Medium : 30,5 - 34 cm (12'')
Large : 35,5 - 39,4 cm (14'')
ExtraLarge : 40,5 - 44,5 cm (16'')
Total width
Small : 62 cm
Medium : 67 cm
Large : 72 cm
ExtraLarge : 77 cm
Position
Footrest and seating
Frame
V shape
Material
Aluminium 6061-T6
Total length
175 cm
Axle diameter
12 mm
Camber rear wheels
10°
Rear wheels
700''x1'' (700C)
Push rims
337mm diameter with 20mm thick rubber
Front wheel
20'' x 1,2''
Brake
Cantilever V
Footrest
Horizontal or 15°.
From low position (155mm) to heigh position (295mm).
Colors
Small : Argent
Medium : Vert
Large : Rouge
Extra large : Bleu
Weight
Small : 12 kg
Medium : 12,3 kg
Large : 12,6 kg
ExtraLarge : 12,9 kg
Included accessories
2 calf straps, 1 knee strap, 1 anti-tipper tube.
Photos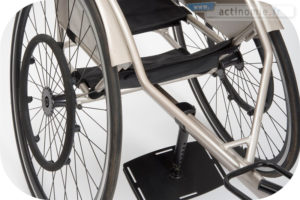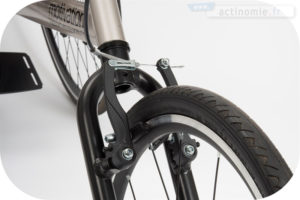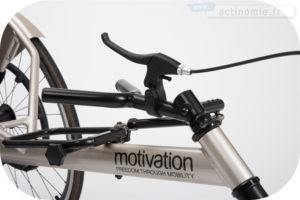 Box
Package with a racing wheelchair  pre-assembled
• 1 front wheel
• 1 removable footplate
• 1 frame pre-assembled
• 2 high performance 700C racing wheels
• 1 removable anti-tip bar for added confidence
• 1 complet velcro fastening straps (1 knee strap, 2 calf straps)
• 1 set of replacement tires and tubes for all wheels
• 1 maintenance tool kit
• 1 user manual
Received package info
• Package dimensions : 167 x 75 x 55 cm
• Package weight : 24 kg