Sale!
Boccia set
335,00 € – 429,00 €
Boccia set of 13 balls of a single density and a container of your choice. Suitable for competition,
– See tabs below for more hardness and range details –
You would rather compose your own game but with different hardnesses? It's possible on this page !
Description
Boccia is a world famous game and a Paralympic sport.
It is played in competition as well as a hobby, in club or school.
That's why we offer balls for each of these activities !
For Sunday players and champions, for special occasions as for international competitions !
For regular players and those who participate to world championships, we provide a wide range and hardness answering to WorldBoccia (Bisfed) standards.
Contact us to create your perfect set, made up of the hardness mix you have selected for your game, or simply to define together the best mixed in regards to your game level.
(Contact us for custom balls)
Characteristics
The choice of balls is decisive in the course of the matches and defined by the goals to be achieved:
• Clear an opposing ball.
• Roll a ball to the back of the field.
• Position a strategic ball that is difficult to move.
• Use fine or adapted ball texture for optimal throw.
• …
There are as many possibilities as there are game situations.
That's why we present the outline to choose the best of your balls… to refine with your own experiences on the field of course !
HARDNESS
The main feature of a Boccia ball is its density.
The harder a ball is, the more its power is preserved. Enough to clear an opposing ball or roll to the end of the field.
The softer a ball is, the less it rolls, making it harder for the opponent to remove a well placed ball.
MATERIAL
Another important characteristic after hardness is material. Where the thickness and the grain of the leather bring more or less fine sensations to the player, a velvet material brings a formidable grip to the ball.  A smoother surface allows an extremely regular ball trajectory, perfect for games with ramp or foot.
COLOR
Finally come the colors!
Boccia's balls are imperatively Blue, Red and White for Jack. Some of them are darker than others but it does not affect the game and it even allows you to spot your balls faster during matches.
Ranges
VICTORY FAMILY
DEVELOPED FOR ADAVANCED COMPETITORS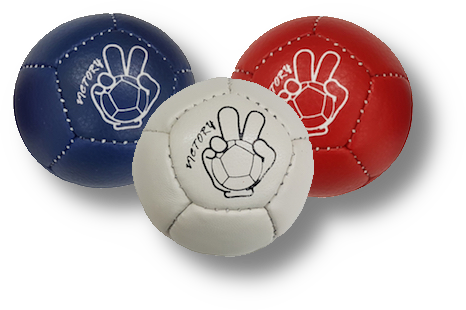 FOR THROWERS OR RAMP PLAYERS
Their reliability and regularity are recognized by players at the highest level.
Available for ramp players or throwers, Victory balls are a sure bet to get the best results at international championships.
---
LEDO FAMILY
DEVELOPED FOR ATHLETES LOOKING FOR AN EXCEPTIONAL TOUCH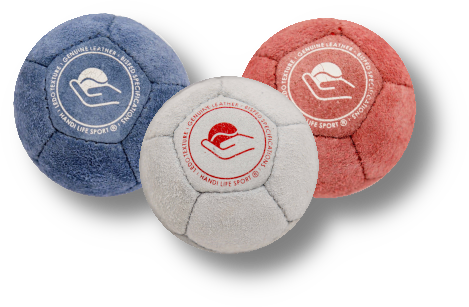 SUEDE
Its main particularity lies in its velvet material which provides a remarkable grip : it helps throws and allows better precision.
---
SUPERIOR FAMILY
THERE ARE 2 RANGES OF SUPERIOR BALLS AND THEY ARE IDEAL IN COMPETITION
CLASSIC
Perfect for tournaments, this range offers the widest choice of hardness.  Its many years of existence confirm the reliability of these balls.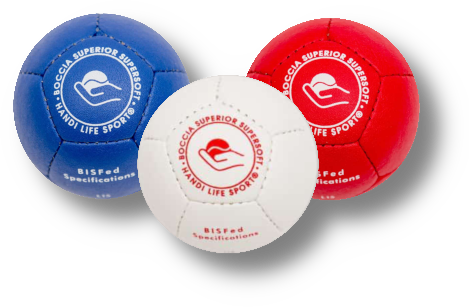 SUPERSOFT
It is the only range to offer a really very soft ball.
His leather is clear and thick, it is always good to have a pair of Supersoft balls in our game.
Comparative Table
TABLE OF HARDNESS PER RANGE
Storage
We are pleased to propose 4 different containers to carry your balls.
Rigid cases, practical backpacks ans an economical bag.
---

HARD CASE
Our case allows you to carry your Boccia balls thanks to a handle and a shoulder strap.
The inside is made of two hard shells to protect a complete set, with an empty pocket and 13 individual slots.
This blue equipment is light and easy to store.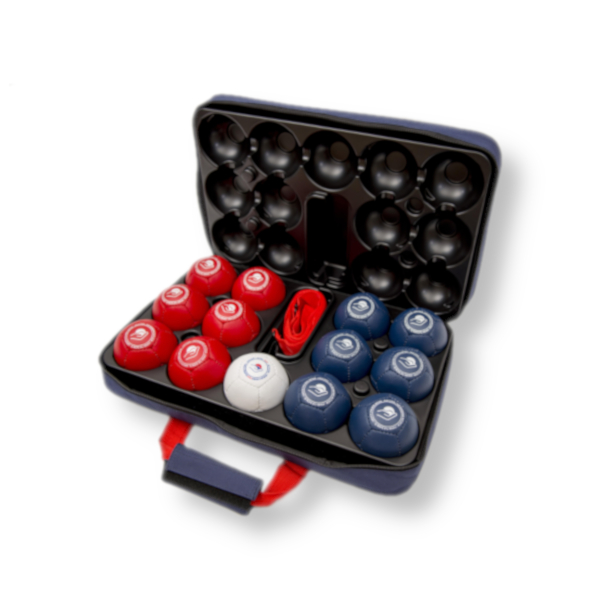 ---

BACKPACKS
Our backpacks allow you to carry your Boccia balls thanks to a handle and a pair of straps.
The inside is composed of two hard shells to protect a complete set, with an empty pocket and 13 individual slots.
This equipment is light and easy to store, available in Grey or Blue (this last one also has a large front pocket and a storage net on the side).

---

SOFT BAG
Our soft bag allows you to carry your balls thanks to a handle and a shoulder strap.
Although in contact with each other, this bag will facilitate the transport of your balls while controlling your budget.
This equipment is available in dark blue.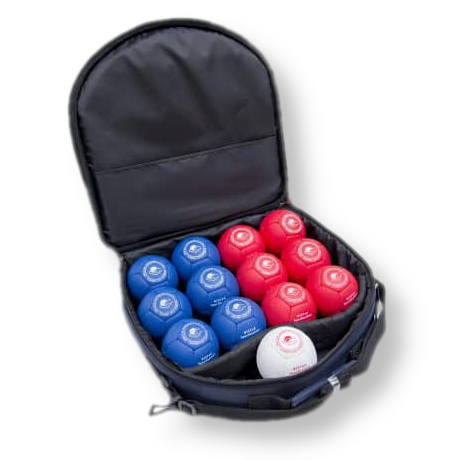 Marking on balls
Contact us to customize your balls with your indelible inscription.