Sale!
Multisport Wheelchair
991,00 €
Versatile initiation equipment designed for many sports activities at low cost !
• Durable frame.
• Color-coded by size.
• Quick release wheels.
• Adjustable backrest and footrest height.
• Removable toe-guard to suit your sport.
Description
Strong and sustainable, our Multisport wheelchairs feature an anti-tip wheel and a removable toe-gard.
The inclination of the wheels allows fast and easy propulsion while guaranteeing a high reactivity in turns.
Adjustable backrests and footrests are designed to accommodate as many users as possible.
We propose this Multisports wheelchair from child size to XL size.
Among its many qualities, our Multisport wheelchair is a versatile tool among the most economical on the market, so feel free to contact us for additional information or for a personalized quote.
Sports
With toe-gard (provided with all our multisport wheelchairs)
Basketball, Rugby league or all other activity where collision may take place and toes need to be protected.

Without toe-gars (removable if needed)
Tennis, Badminton, Dancing and any other activity appropriate to the design.

Technical info
Features
Adult
Junior
Seat width to order
30 cm, 35 cm, 40 cm or 45 cm.
30 cm
adjustable seat depth
25 cm, 30 cm & 35 cm.
30 cm
Adjustable backrest height
25 cm, 30 cm & 35 cm.
25 cm, 27,5 cm & 30 cm
Adjustable footrest height
45 cm, 47,5 cm & 50 cm.
From 13 cm to 42,5 cm
Camber rear wheels
15°
15°
Rear wheels
26''x1''
Quick release system.
36 spoke aluminium rims.
24''x1''
Quick release system.
36 spoke aluminium rims.
mini castor wheels
Adult & junior : 3'' rotative wheel with aluminium folk.
anti-tip wheel
Adult & junior : 3'' rotative wheel.
Height adjustment (0-20mm).
Nylon upholstery backrest
Adulte et junior : Tension adjustable straps, water resistant
Seat
Adult & junior : 5 cm height foam cushion, with nylon upholstery
Straps
Adult & junior : 4 straps included : ankle, knee, foot et lap
Frame
Adult & junior : Thin and light aluminium tubes
Weight
Approx : 13 kg.
Approx : 12 kg.
Tailles
Size
Seat width
Colors
Settings
Junior
30 cm
Silver
3 levels of backrest height and multiple levels of footrest adjustability
Small
30 cm
Green
Back rest and footrest

3 levels adjustability
Medium
35 cm
Red
Large
40 cm
Blue
Extra Large
45 cm
Black
Photos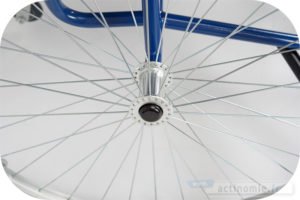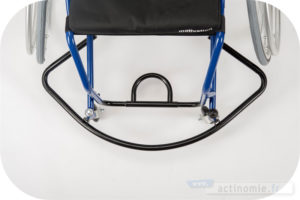 Box
Package with a Multisport wheelchair  pre-assembled
• 1 frame pre-assembled
• 2 sport rear wheels
• 1 removable toe-gard 
• 1 complet velcro fastening straps (1 hip strap, 1 knee strap, 1 foot strap and ankle strap)
• 1 maintenance tool kit
• 1 user manual
Received package info
• Package dimension, adult equipment : 77 x 71 x 68 cm
• Package weight, adult equipment : 20 kg
• Package dimension, junior equipment : 71 x 62 x 65 cm
• Package weight, junior equipment : 16 kg