Harness Racing Gloves
260,00 € – 285,00 €
Description
Stop reinforcing your gloves with tape before each start, find out our racing gloves : they are made for speed !
Instead of riding in a conventional way, get on the roads boxing your handrails !
This more natural movement allows a longer handrail push and can reduce injuries.
The materials used in the manufacture of our running gloves offer better grip, stability and provide greater protection of the contact points compared to conventional gloves.
With our running gloves, you will be able to focus on your goals rather than on the tools to achieve them!
Among their many qualities, our racing gloves are robust and recognized worldwide, so feel free to contact us for additional information or for a personalized quote.
Models
"MITT QUAD" MODEL : SUSTAINDED ACTIVITY (COMPETITION)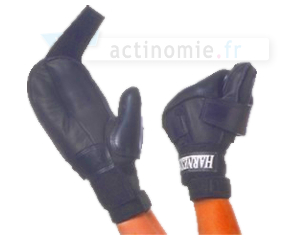 These gloves are our flagship model. The rubber push surface extends higher onto the back of the hand to accommodate a quad backhand stroke and a patch of rubber is added to the palm for contacting the ring when pushing steep hills.
The back opening of this mitt is wider and a second wrist strap provides additional wrist support. Finger padding is ¼" thick on the fingers and thumbs.
These quad mitts have rubber push surfaces on full padding on a leather mitt.
---

"MITT" MODEL : REGULAR ACTIVITY AND ECONOMIC (CLUB)
The mitt style provides a very stable base for the rubber push surfaces which cover the thumbs and the fingers to slightly over the back of the hand on the first two knuckles.
All four fingers are enclosed in a leather mitt with a seam dividing the fingers into pairs. If you contact the push ring with your ring or little fingers, this is the style you will want.
These mitts have rubber push surfaces,  tabs, and full padding on a leather mitt.
---
"MITT MIN" MODEL : THE LIGHTEST OF ALL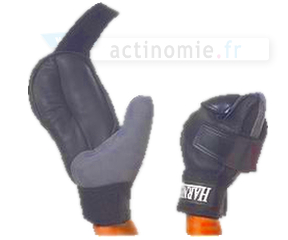 The slightly lower cut rubber push surface on the fingers and a lightweight non-woven synthetic thumb make this a good choice if you don't push with your thumbs and need less contact area on the fingers.
This minimum rubber mitts have rubber push surfaces,  tabs, full padding on a leather mitt, and gray non-woven thumbs.
---
"DIGITT " MODEL : PERFECT FOR AN INTRODUCTION TO RACING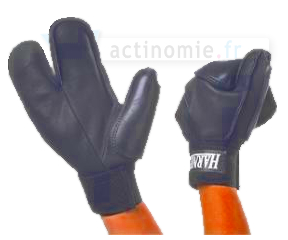 If you do not contact the push ring with your ring and little fingers or you want more dexterity than the  "MITT" model, consider this style.
The rubber push surfaces on the thumb and first two fingers are identical to that of the mitt styles but the ring and little finger are separated from the first two fingers and covered only in leather.
These gloves have rubber push surfaces, tabs, and full padding on a leather glove.
Sizes
Use the size chart below as a general guide to help you determine your size.
Although we recommend that you use the general guidelines of "medium for women" and "large for men", you can also double check the girth and length of your hands as shown below.
Too small sizes are not recommended in order to avoid compressions.
Sizes are not matching for hands with atrophy.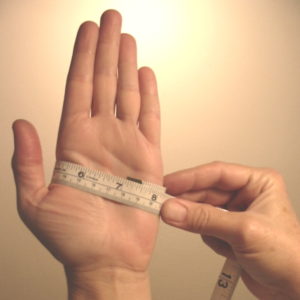 | | PALM GIRTH | HAND LENGTH |
| --- | --- | --- |
| XSmall | 15 cm (6 inches) | 18 cm (7 inches) |
| Small | 18 cm (7 inches) | 18 cm (7 inches) |
| Medium | 20 cm (8 inches) | 19 cm (7 ½ inches) |
| Large | 23 cm (9 inches) | 22 cm (8 ½ inches) |
| XLarge | 25 cm (10 inches) | 23 cm (9 inches) |
If you're still not sure of the size you need, mail us tracings of both of your hands with the girth and length notated on each hand and we will recommend a size.
Custom sized gloves possible on request but will not be returnable, size XXL is not available.