Trail wheelchair
1254,03 € – 1410,43 €
Description
The Becasine allows you to share outdoor outings where a conventional chair could not easily go through and becomes the ultra-convenient escape tool to access walking sites.
The use of the Becasine is easy, the passenger takes place and here we go !
A single person can even push the Becasine, and in sports contests, a team of four runners can achieve great results.
The Becasine is set and dismantled without tools in less than 5 minutes and takes place in most cars.
The Becasine is perfect for accessing country or forest paths and therefore allows you to participate in walks, races or even official trails all together. However, the Becasine is not intended for travel in highly uneven or mountainous terrain.
Many accessories exist to complement the practice of the Becasine, like harnesses, straps and for the youngest a raised footrest to ride safely.
Among its many qualities, the Becasine is one of the most economical outing equipment in its category, so feel free to contact us for additional information or for a personalized quote.
Dimensions
Length : 86 cm (without any arm)
Width : 55 cm (without any wheel)
Height : 60 cm (without any wheel)
Arms    : 163 cm length

---
Size
Total length with 2 armss : 254 cm.
Total width : 56 cm.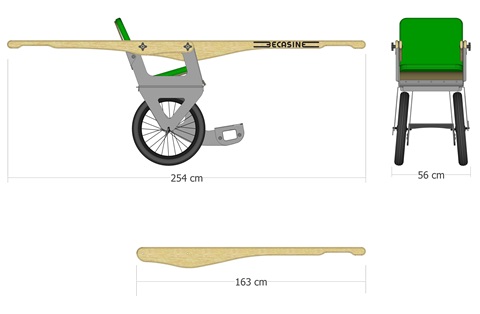 Optional accessories
[table "Ace-Bec-Eng" not found /]